2:00PM Water Cooler 11/16/2023 | naked capitalism
By Lambert Strether of Corrente.
Bird Song of the Day
Aztec Thrush, Miahuatlán, Oaxaca, Mexico. "Audio recording lifer 🙁 Didn't notice this in the field, I was distracted with recording, and then with flyover Hooded Grosbeak flock." The quality rating of this recording is low, presumably because of the road (?) noise in the background, but I don't mind sounds like that; I like the sense of a real setting.
* * *
Politics
"So many of the social reactions that strike us as psychological are in fact a rational management of symbolic capital." –Pierre Bourdieu, Classification Struggles
The Constitutional Order
"Where efforts to disqualify Trump from 2024 ballot stand" [Axios]. Quite a round-up:

By the numbers: Six cases related to the clause have already been dismissed, including in Minnesota, New Hampshire, two in Michigan and another two in Florida, per legal analysis by nonprofit publication Lawfare.

Six cases were voluntarily withdrawn in Idaho, Utah, Oklahoma, Maine, Pennsylvania and North Carolina.
At least 19 more remain pending, including two in New York, in Texas, Nevada, Arizona, Alaska, Montana, New Mexico, Colorado, Kansas, Wisconsin, Vermont, Massachusetts, Virginia, South Carolina, West Virginia, Delaware, Connecticut and New Jersey.

I'm assuming most of these are frivolous suits brought by individuals…
Biden Administration
Al Shifa hospital doesn't seem to have been a propaganda win:

Mossad and CIA intelligence failed again

Israel admits there are no tunnels being used under Al Shifa hospital.

They are all concreted up.

Weeks have passed and the Israelis have yet to find a single tunnel or hostage. pic.twitter.com/oA2j9TBoIb

— Iran Observer (@IranObserver0) November 16, 2023

And maybe was never going to be:

Israel claims Al Shifa hospital hides a command center for Hamas.
Norwegian doctor Mads Gilbert, who has worked at Al-Shifa, Gaza for 16 years says there is "no evidence at all" for that: "If it was a military command center, I would not work there." pic.twitter.com/KC8Gkuki6R

— Faheem (@stoppression) November 11, 2023

I remain baffled at the concept that capturing a "command center" could have strategic importance. Old-timers will remember "captured enemy documents" from Vietnam. We captured a lot of "command centers" losing that war, too!

Quite a haul:

Shifa hospital#IsraelFightsTerror pic.twitter.com/Cz7IQlPfeR

— Mossad Commentary (@MOSSADil) November 16, 2023
2024
Less than a year to go!

* * *

"Trump's new Latino strategy casts him as victim of socialists" [Axios]. "Former President Trump's team is trying to build on the GOP's recent gains among Latinos with a strategy in Florida that's aimed at voters of Cuban, Venezuelan and Colombian descent — and that casts Trump as a victim of overzealous socialists. Trump's efforts to liken his legal woes and his clashes with Democrats to the difficulties many Latin Americans have faced under socialist and authoritarian rule represent a turn in his push to appeal to the fastest-growing segment of the U.S. electorate. This strategy was a big reason why Trump chose Hialeah, Fla., as the site of his counter-programming rally during last week's Republican presidential debate. Hialeah is more than 95% Hispanic, and the vast majority of those residents are Cuban Americans, a conservative electorate that identifies more with Republicans than many other Latino groups. At the rally, Trump portrayed his 'persecution' on felony charges — and what he called his resistance to communism — as similar to what many Cuban Americans and their families experienced during the communist regime of Fidel Castro… It's unclear whether Trump's "victim" strategy that plays well in Florida will resonate with Mexican Americans and other Latinos whose families' backgrounds don't involve fleeing authoritarian leaders."

"Trump's violent talk shows signs of taking over Congress" [The Hill]. "[Sen. Mike Rounds (R-S.D.)] observed that Trump recognized before most other politicians the anger brewing in American society and seized on it for political gain, but he warned it's a dangerous path for the nation's leaders. 'I don't know if he changed [norms] or simply responded to what he saw from other people. I think he sensed that the American people were allowing this to go on, and he's taken advantage of it, but it's not the direction that I think our country should go,' he said. 'I really do believe that the Founding Fathers wanted us to get together here in Washington, work out our differences, and they do not expect us to be caning one another,' he added." • So I'm not the only one with the caning of Sumner in mind…

* * *

"DeSantis targets China, but takes cash from Chinese-backed company" [Orlando Sentinel]. "Gov. Ron DeSantis has gone on the offensive against Chinese influence in recent months, signing a bill restricting what land Chinese companies and citizens can buy in Florida and suspending state scholarships to four Florida schools over alleged links to China. But this August he took a check for more than $11,000 from the CEO of a Tampa refrigerant company with direct backing from China. It was just the latest in years of financial support that the company, iGas USA, has given DeSantis. Last year DeSantis held a rally at the Chinese-backed refrigerant company's Tampa complex. The rally and contributions are part of a recent wave of political giving by iGas and entities associated with its CEO, Xianbin 'Ben' Meng. All told, the companies and employees have made more than $1.1 million in federal and state political contributions in the past five years, with 98% of the money going to Republican candidates and committees. The biggest share of that money, $340,000, went to DeSantis and committees affiliated with him." • Oh.

* * *

"Biden Is Tearing His Own Coalition Apart" [The Nation]. "Joe Biden hasn't gotten America into a land war in Asia yet, but in every other way he is repeating LBJ's mistake of thinking guns and butter go together. Through his infrastructure bill and the Inflation Reduction Act, Biden has admirably returned big-ticket social spending to the White House agenda. But he has been equally concerned to reassert American hegemony, financing the war in Ukraine, promising more money to Israel as it carries out its bombing of Gaza, and pivoting toward a great-power competition with China that could easily become a new cold war. Like the Cold War liberals, Biden has embraced a military Keynesianism that sees guns and butter as mutually self-supporting. In late October, Politico reported, 'The White House has been quietly urging lawmakers in both parties to sell the war efforts abroad as a potential economic boom at home. Aides have been distributing talking points to Democrats and Republicans who have been supportive of continued efforts to fund Ukraine's resistance to make the case that doing so is good for American jobs.' National security adviser Jake Sullivan has been a major advocate of this new military Keynesianism." But: "like LBJ before him, Biden will find that a guns-and-butter consensus is brittle and satisfies no one. Endless war isn't popular. Voters are already souring on the idea of sending more aid to Ukraine, and polls show majority support for a cease-fire in Gaza…. By trying to hammer out a guns-and-butter consensus that very few outside the elite support, Biden is tearing apart both his own coalition and American society."

"Has Biden's electoral coalition fractured?" [The Hill]. "According to the poll, 22 percent of Black voters in those battleground states say they'd vote for Donald Trump over Joe Biden in next year's presidential election…. No Democratic presidential candidate since the civil rights era has earned less than 80 percent of the Black vote…. Because of his support for Israel, President Biden could lose Muslim votes, especially in Michigan, one of the key battleground states. He could lose progressive voters in general and young voters in particular — two more key components in the Democratic coalition. He might even lose support of another bloc that historically has voted (overwhelming) for Democratic presidents — Jewish voters, who believe that there are elements in the Democratic Party that are anti-Israel, anti-Jewish and even pro-Hamas…. Finally, there's another number in the poll that tells us a lot about what Americans are thinking. 56 percent of registered voters in those six battleground states have either a somewhat or very unfavorable view of Joe Biden. As for Donald Trump: He comes in with a 57 percent unfavorable number. So if it's a Trump vs. Biden rematch, the only thing we know with some certainty is that voters wish they'd both just go away."

* * *

"Joe Manchin says he 'absolutely' would consider running for president in 2024: Senator won't rule out potential third-party bid that could dent Biden's chances" [Daily Mail]. "Democratic Sen. Joe Manchin said Wednesday he would 'absolutely' consider a presidential run, giving himself until around Super Tuesday to decide whether to launch a third-party bid for the White House…. As for Biden, he told [NBC's Meet the Press host Kristen Welker], 'I'm afraid that Joe Biden's been pushed too far to the left.' 'Can he come back? We'll see,' the senator added. 'But the bottom line is that's not the Joe Biden that we thought was being elected, to go that far left.'"

"'No Labels' leader says group launching 2024 candidate committee: Manchin deserves 'serious consideration'" [FOX]. "Former Connecticut Sen. Joe Lieberman — who served as both a Democrat and Independent — said Wednesday if 2024 becomes a rematch between Joe Biden and Donald Trump, he could see Manchin as a potential candidate for the group to unite around. However, he underlined there is no guarantee 'No Labels' will indeed field a candidate. 'Joe Manchin is a friend of mine. He's a great centrist. He really has walked the walk and worked on bipartisan problem-solving in Congress,' said Lieberman, who was also the 2000 presidential running-mate for Al Gore." • What horrible political judgment Gore had, to be sure. Putting Lieberman on the national stage.

* * *

Centrism:

RFK Jr says the quiet part out loud:

Israel is a stronghold for us…It's like having an aircraft carrier in the Middle East…If Israel disappears, Russia, China and the BRICS+ countries will control 90% of the world's oil, and this will be a disaster.pic.twitter.com/OWmu2peyFF

— Danny Haiphong (@SpiritofHo) November 8, 2023

Merch:

Break the duopoly in style! Get your official Cornel West 2024 campaign merch at https://t.co/lx0HUKP1I9#CornelWest2024 pic.twitter.com/T7q5AqO6fM

— Cornel West (@CornelWest) November 15, 2023

I like the look!

PMC gatekeeping, as usual:

.@abbydphillip spoke to @AndrewYang on CNN tonight about Biden's Democratic challengers Dean Phillips and …Manchin (huh?) …and Newsom (huh?)

There IS another actual Democratic candidate here – polling higher than Phillips, at 16% among Democratic leaning voters on the…

— Marianne Williamson (@marwilliamson) November 11, 2023




* * *

"Governor JB Pritzker outlines plans for migrant intake center, funds for shelter" [ABC7]. "Governor JB Pritzker laying out new emergency steps as thousands of migrants await shelter in Chicago…. The governor announcing the policy and the funding Thursday, saying they had to step in an provide this assistance with temperatures expected to plummet next week. 'To get people off of the streets as we head into winter, the state of Illinois will invest an additional $160 million via the Department of Human Services, specifically to address these bottlenecks,' Governor Pritzker said. Part of the money, $30 million will be to set up an intake center for when the migrants first arrive in Chicago to either help them find a place to stay, or get them to their next destination in another city." And: "RELATED: Chicago migrants will have 60-day limit to shelter stays, Mayor Johnson announces."
Democrats en Déshabillé
Patient readers, it seems that people are actually reading the back-dated post! But I have not updated it, and there are many updates. So I will have to do that. –lambert

I have moved my standing remarks on the Democrat Party ("the Democrat Party is a rotting corpse that can't bury itself") to a separate, back-dated post, to which I will periodically add material, summarizing the addition here in a "live" Water Cooler. (Hopefully, some Bourdieu.) It turns out that defining the Democrat Party is, in fact, a hard problem. I do think the paragraph that follows is on point all the way back to 2016, if not before:

The Democrat Party is the political expression of the class power of PMC, their base (lucidly explained by Thomas Frank in Listen, Liberal!). ; if the Democrat Party did not exist, the PMC would have to invent it. . ("PMC" modulo "class expatriates," of course.) Second, all the working parts of the Party reinforce each other. Leave aside characterizing the relationships between elements of the Party (ka-ching, but not entirely) those elements comprise a network — a Flex Net? An iron octagon? — of funders, vendors, apparatchiks, electeds, NGOs, and miscellaneous mercenaries, with assets in the press and the intelligence community.

Note, of course, that the class power of the PMC both expresses and is limited by other classes; oligarchs and American gentry (see 'industrial model' of Ferguson, Jorgensen, and Jie) and the working class spring to mind. Suck up, kick down.

* * *

"The Squad Is About to Fight for Its Political Life" [Slate]. "One of the biggest, bitterest, and most expensive political battles of the 2024 election cycle has emerged: The American Israel Public Affairs Committee, one of the most powerful, best-funded influence operations in Washington, is planning to go all out to knock the famed "Squad"—the small group of highly visible and popular progressive legislators of color, most of them women—out of office…. Critically, all of them reject big-money backing, surviving on just grassroots support and small-dollar fundraising… In the 2022 midterms, the Israel lobby became the largest single-issue outside spender in Democratic primaries, pouring in nearly $30 million via the super PAC the United Democracy Project, and millions more via the Democratic Majority for Israel PAC. It was an astronomical amount of money, mostly directed at knocking progressives out of the primaries, largely in open and redrawn seats. Despite there being fewer vacancies in 2024, that money figure is expected to at least triple." It would be handy to have an explanation of why AIPAC's campaign isn't election interference by a foreign power. More: "So far, [lol]. Minority Leader Hakeem Jeffries—who took more money from the Israel lobby in 2022 than from any other group and is featured prominently on the lobbying group's website (alongside House Republican leadership)—hasn't tried to dissuade the primarying of these progressive Democratic incumbents. He could easily publicly disavow such spending and make it clear to candidates that accepting such support is against caucus policy; in 2019, House Democrats made it an official policy to blacklist any Democratic consultant or political group who aided a progressive challenger against a sitting Democratic incumbent ahead of the 2020 elections. But so far Jeffries has only managed to say: '. I think House Democrats are going to continue to support each other.'" • Odd. Jeffries seems to think the Democrat Party is some sort of money laundering operation.
Realignment and Legitimacy
"The panel charged with recommending changes to Massachusetts's seal and motto just disbanded. It didn't offer specific substitutes for either." [Boston Globe]. • Amusing portrait of a completely dysfunctional committee.
#COVID19
"I am in earnest — I will not equivocate — I will not excuse — I will not retreat a single inch — AND I WILL BE HEARD." –William Lloyd Garrison
Resources, United States (National): Transmission (CDC); Wastewater (CDC, Biobot; includes many counties; Wastewater Scan, includes drilldown by zip); Variants (CDC; Walgreens); "Iowa COVID-19 Tracker" (in IA, but national data). "Infection Control, Emergency Management, Safety, and General Thoughts" (especially on hospitalization by city).
Lambert here: Readers, thanks for the collective effort. To update any entry, do feel free to contact me at the address given with the plants. Please put "COVID" in the subject line. Thank you!
Resources, United States (Local): AK (dashboard); AL (dashboard); AR (dashboard); AZ (dashboard); CA (dashboard; Marin, dashboard; Stanford, wastewater; Oakland, wastewater); CO (dashboard; wastewater); CT (dashboard); DE (dashboard); FL (wastewater); GA (wastewater); HI (dashboard); IA (wastewater reports); ID (dashboard, Boise; dashboard, wastewater, Central Idaho; wastewater, Coeur d'Alene; dashboard, Spokane County); IL (wastewater); IN (dashboard); KS (dashboard; wastewater, Lawrence); KY (dashboard, Louisville); LA (dashboard); MA (wastewater); MD (dashboard); ME (dashboard); MI (wastewater; wastewater); MN (dashboard); MO (wastewater); MS (dashboard); MT (dashboard); NC (dashboard); ND (dashboard; wastewater); NE (dashboard); NH (wastewater); NJ (dashboard); NM (dashboard); NV (dashboard; wastewater, Southern NV); NY (dashboard); OH (dashboard); OK (dashboard); OR (dashboard); PA (dashboard); RI (dashboard); SC (dashboard); SD (dashboard); TN (dashboard); TX (dashboard); UT (wastewater); VA (dashboard); VT (dashboard); WA (dashboard; dashboard); WI (wastewater); WV (wastewater); WY (wastewater).
Resources, Canada (National): Wastewater (Government of Canada).
Resources, Canada (Provincial): ON (wastewater); QC (les eaux usées); BC, Vancouver (wastewater).
Hat tips to helpful readers: anon (2), Art_DogCT, B24S, CanCyn, ChiGal, Chuck L, Festoonic, FM, FreeMarketApologist (4), Gumbo, hop2it, JB, JEHR, JF, JL Joe, John, JM (10), JustAnotherVolunteer, JW, KatieBird, LL, Michael King, KF, LaRuse, mrsyk, MT, MT_Wild, otisyves, Petal (6), RK (2), RL, RM, Rod, square coats (11), tennesseewaltzer, Utah, Bob White (3).
Stay safe out there!
* * *
Covid is Airborne
Dentists v. doctors:

the 4 health care offices I visited recently for a medical issue did the minimum required, no mask requirements or reminders to do anything for covid. Ventilation/filtration was whatever was part of the building or medical equipment.

— Dr James Morris (@James___Morris) November 15, 2023

I think the difference is that dentistry — cleaning, drilling, extracting — as an aerosol-generating procedure, and so dentists are aerosol-conscious. By contrast, doctors are used to thinking of aerosols as being generated in operating theatres, and as simply produced by breathing, talking, shouting, etc. There's little professional excuse for this, of course, but "one funeral at a time."

"What are the problems with airtight homes?" [National Post]. "However, there are air-purification systems that neutralize the air using . These devices provide air purification and odour elimination around the clock — keeping your indoor air clean and fresh." • No no no no no:

3/ Some of these by-products are known to be harmful. Some are suspected to be harmful based on their chemical structure and similarities to chemicals we know can be harmful, and we do not have good tox data for the majority (those may or may not be particularly harmful).

— Richard Corsi, PhD, PE (Texas) (@CorsIAQ) November 16, 2023
Maskstravaganza
Since masks look like medical appliances, it's no surprise people associate them with illness, not safety, let alone collective safety:

MaskLab just keeps delivering with these gorgeous designs.

Meanwhile, 3M is just totally giving up on having any role in thinking about the future of mask aesthetics, sigh.

P.S. If anyone needs a MaskLab code for 15% off, https://t.co/xHKYni2yIXhttps://t.co/fiBPn87mj1 pic.twitter.com/x0nz4AVokd

— Dr Rebecca Richardson (@mavisclare) November 15, 2023
"Something Awful"
Lambert here: I'm getting the feeling that the "Something Awful" might be a sawtooth pattern — variant after variant — that averages out to a permanently high plateau. Lots of exceptionally nasty sequelae, most likely deriving from immune dysregulation (says this layperson). To which we might add brain damage, including personality changes therefrom.

* * *
* * *
Lambert here: Lots of indicators up, starting with wastewater. (The one I worry about the most is ER visits, since I think that data is hard to game, and who wants to go to the ER, anyhow?) I think it's time to send the relatives those clippings you saved on brain damage (also, of course, the 2022 clippings: here, here. And the 2020 one).
Case Data
NOT UPDATED From BioBot wastewater data, November 13:
Lambert here: Cases up, just in time for Thanksgiving (and tinfoil hat time: This is the, er, inflection point CDC was trying to conceal when they gave the contract to Verily and didn't ensure a seamless transition).
Regional data: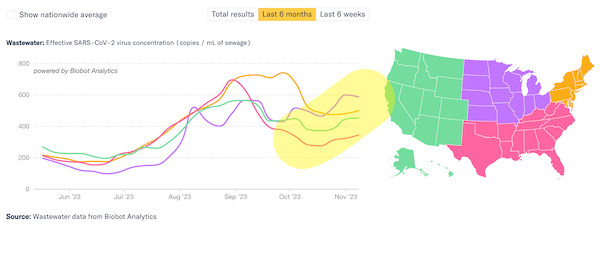 Everywhere!
Variants
NOT UPDATED From CDC, November 11: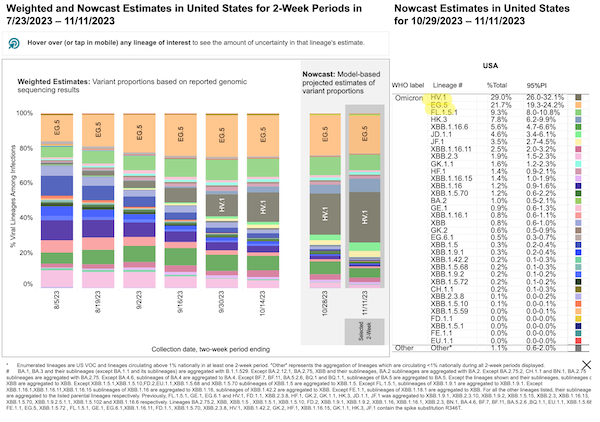 Lambert here: Top of the leaderboard: HV.1, EG.5 a strong second, with FL.1.15.1 and XBB.1.1.16.6 trailing. No BA.2.86 (although that has showed up in CDC's airport testing). Still a Bouillabaisse…
From CDC, October 28: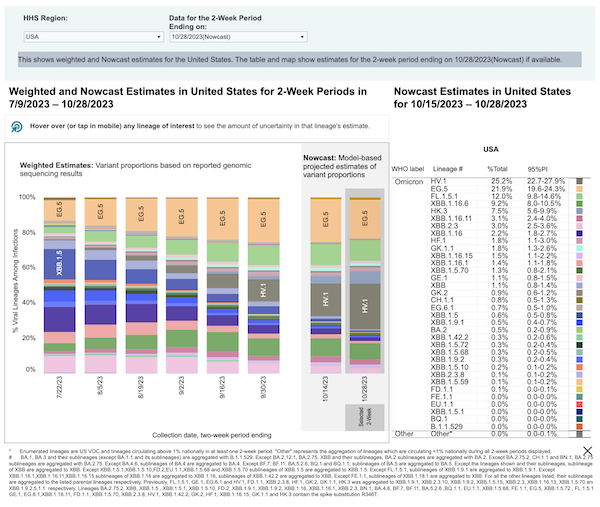 Lambert here: I sure hope the volunteers doing Pangolin, on which this chart depends, don't all move on the green fields and pastures new (or have their access to facilities cut by administrators of ill intent).
CDC: "As of May 11, genomic surveillance data will be reported biweekly, based on the availability of positive test specimens." "Biweeekly: 1. occurring every two weeks. 2. occurring twice a week; semiweekly." Looks like CDC has chosen sense #1. In essence, they're telling us variants are nothing to worry about. Time will tell.
Covid Emergency Room Visits
NOT UPDATED From CDC NCIRD Surveillance, November 11: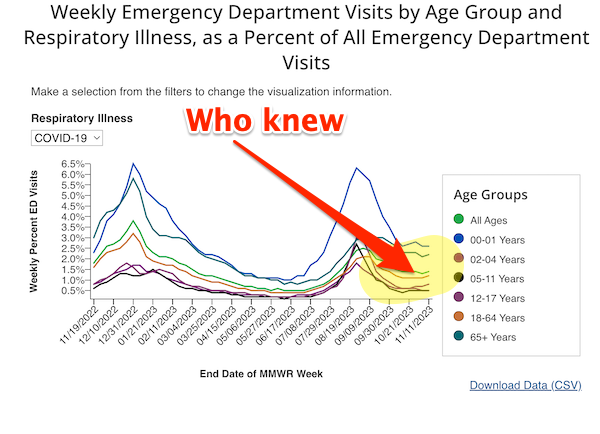 Lambert here: Slight increases in some age groups, conforming to wastewater data. Only a week's lag, so this may be our best current nationwide, current indicator until Verily gets its house in order (and working class-centric, since I would doubt the upper crust goes to the ER).
NOTE "Charts and data provided by CDC, updates Wednesday by 8am. For the past year, using a rolling 52-week period." So not the entire pandemic, FFS (the implicit message here being that Covid is "just like the flu," which is why the seasonal "rolling 52-week period" is appropriate for bothMR SUBLIMINAL I hate these people so much. Notice also that this chart shows, at least for its time period, that Covid is not seasonal, even though CDC is trying to get us to believe that it is, presumably so they can piggyback on the existing institutional apparatus for injections.
Hospitalization
Bellwether New York City, data as of November 15: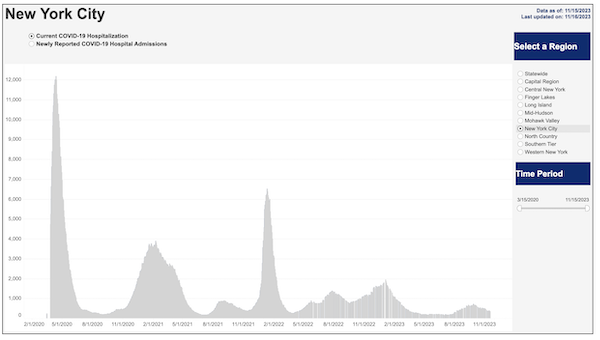 Decline flattens. (I hate this metric because the lag makes it deceptive, although the hospital-centric public health establishment loves it, hospitalization and deaths being the only metrics that matter [snort]).
NOT UPDATED Here's a different CDC visualization on hospitalization, nationwide, not by state, but with a date, at least. November 4: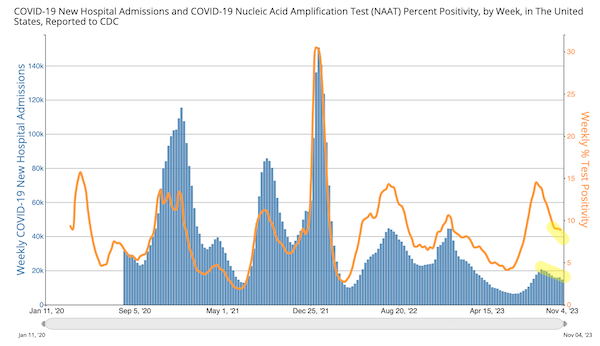 Lambert here: "Maps, charts, and data provided by CDC, updates weekly for the previous MMWR week (Sunday-Saturday) on Thursdays (Deaths, Emergency Department Visits, Test Positivity) and weekly the following Mondays (Hospitalizations) by 8 pm ET†". So where the heck is the update, CDC?
Positivity
NOT UPDATED From Walgreens, November 13: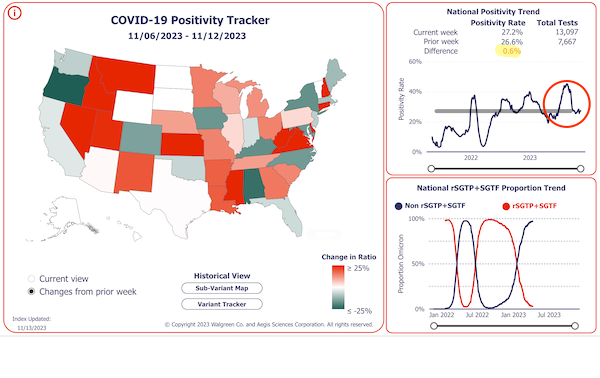 -1.4%. But bouncing around. (It would be interesting to survey this population generally; these are people who, despite a tsunami of official propaganda and enormous peer pressure, went and got tested anyhow.)
NOT UPDATED From Cleveland Clinic, November 11: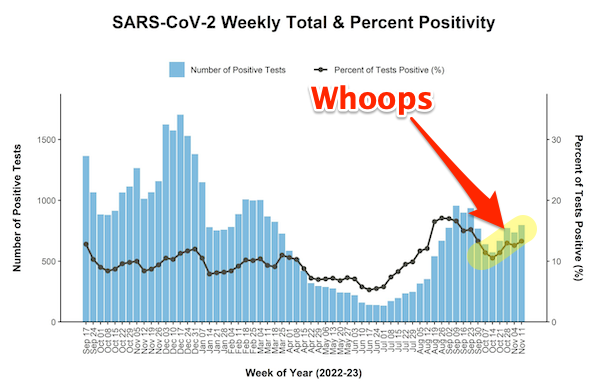 Lambert here: Increase (with backward revision; guess they thought it was over). I know this is just Ohio, but the Cleveland Clinic is good*, and we're starved for data, so…. NOTE * Even if hospital infection control is trying to kill patients by eliminating universal masking with N95s.
From CDC, traveler's data, October 29: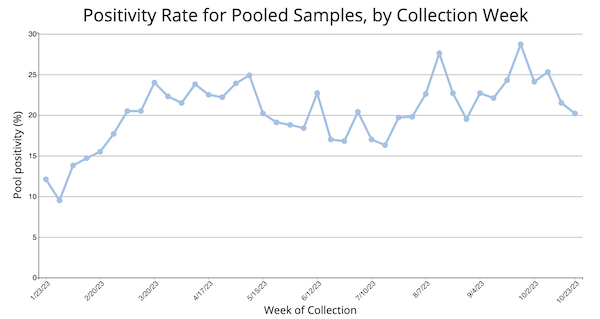 Down, albeit in the rear view mirror. And here are the variants for travelers, still from October 23: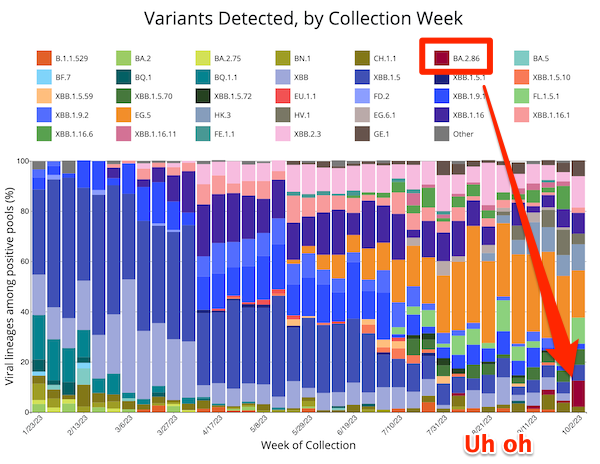 Sudden big BA.2.86 appearance. This variant chart has not been updated, which makes me wonder if CDC is gaming the data, and BA.2.86 is worse than we think.
Deaths
Total: 1,182,163 – 1,181,963 = 200 (200 * 365 = 73,000 deaths per year, today's YouGenicist™ number for "living with" Covid (quite a bit higher than the minimizers would like, though they can talk themselves into anything. If the YouGenicist™ metric keeps chugging along like this, I may just have to decide this is what the powers-that-be consider "mission accomplished" for this particular tranche of death and disease). 
Excess Deaths
The Economist, November 16: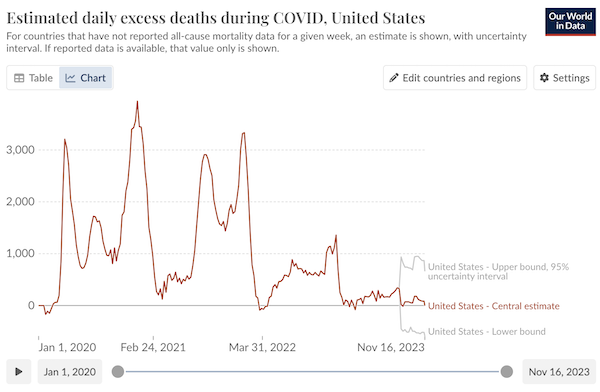 Lambert here: Based on a machine-learning model.
Stats Watch
Employment Situation: "United States Initial Jobless Claims" [Trading Economics]. "The number of Americans filing for unemployment benefits rose by 13,000 to 231,000 on the week ending November 11th, the highest in nearly three months, and well above market expectations of 220,000. In the meantime, continuing claims rose by 18,000 to 1,865,000 in the previous week, the highest in nearly two years and sharply above market forecasts of 1,847,000, suggesting that jobseekers are having a more difficult time in finding suitable employment."
Manufacturing: "United States Industrial Production" [Trading Economics]. "US industrial production declined by 0.7% year-on-year in October 2023, following a revised 0.2% contraction in the previous month."
Manufacturing: "United States Philadelphia Fed Manufacturing Index" [Trading Economics]. "The Philadelphia Fed Manufacturing Index in the US increased 3.1 points but remained negative at -5.9 in November 2023, better than market forecasts of -9. This is the index's 16th negative reading in the past 18 months."
Manufacturing: "United States Kansas Fed Manufacturing Index" [Trading Economics]. "The Kansas City Fed's Manufacturing Production index was at -3 in November of 2023, improving from -8 in the previous month but maintaining the negative territory for the third consecutive period. Both durable goods and nondurable goods manufacturing indices ticked up slightly in the period, although the former remained below zero."
* * *
Tech: "Mom and pop shops are cutting software spending, creating jitters on Wall Street" [CNBC]. "Analysts are seeing a pullback in software spending by restaurants, retailers, and other local and regional businesses, which are responding to weaker consumer trends…. Over the past two decades, small businesses have accounted for 40% of U.S. gross domestic product, according to the Chamber of Commerce. They also employ 46% of the American workforce…. Investors across the sector are trying to figure out if SMB spending has bottomed or if businesses are still looking for opportunities to slim down their software portfolio should the economic picture dampen further."
Tech: "Bad Bots Account for 73% of Internet Traffic: Analysis" [Security Week]. "The top five categories of Bad Bot attacks are fake account creation, account takeovers, scraping, account management, and in-product abuse. These haven't changed from Q2, other than in-product abuse replacing card testing. The biggest increases in attacks from Q2 to Q3 are SMS toll fraud (up 2,141%), account management (up 160%), and fake account creation (up 23%). The top five targeted industries are technology (Bad Bots comprise 76% of its internet traffic); gaming (29% of traffic); social media (46%), e-commerce (65%), and financial services (45%). If a bot fails in its purpose, there is a growing tendency for the criminals to switch to human operated fraud farms. Arkose estimates there were more than 3 billion fraud farm attacks in H1 2023…. ." Oh. More: "Crime-as-a-service enables wannabe criminals who may have the intent but not the skills to engage in cybercrime. "The massive rise of CaaS has completely changed the economics for adversaries" continued Gosschalk. 'It's much cheaper to attack companies and the attacks are just better because it's a dev shop that is doing the attacks instead of just individual cybercriminals.' The continuing increase in the volume of Bad Bots suggests they remain profitable for the criminals. The arrival of gen-AI will improve the performance of Bad Bots, while the growth of CaaS will increase the number of Bad Bot operators; so, it will get worse. The only solution is Bad Bot detection and mitigation to limit the access of the bots to their human or system targets." • Thank you, Silicon Valley. "Crime as a Service" seems like a William Gibson theme, though amazingly he didn't invent the phrase. Hard to believe the brain geniuses who invented AI didn't see this coming…. But maybe not!
Tech: "Europe's hidden security crisis" [Irish Council for Civil Liberties]. "Our investigation highlights a widespread trade in data about sensitive European personnel and leaders that exposes them to blackmail, hacking and compromise, and undermines the security of their organisations and institutions. These data flow from Real-Time Bidding (RTB), an advertising technology that is active on almost all websites and apps. RTB involves the broadcasting of sensitive data about people using those websites and apps to large numbers of other entities, without security measures to protect the data. This occurs billions of times a day. Our examination of tens of thousands of pages of RTB data reveals that EU military personnel and political decision makers are targeted using RTB. This report also reveals that Google and other RTB firms send RTB data about people in the U.S. to Russia and China, where national laws enable security agencies to access the data. RTB data are also broadcast widely within the EU in a free-for-all, which means that foreign and non-state actors can indirectly obtain them, too. RTB data often include location data or time-stamps or other identifiers that make it relatively easy for bad actors to link them to specific individuals. Foreign states and non-state actors can use RTB to spy on target individuals' financial problems, mental state, and compromising intimate secrets. Even if target individuals use secure devices, data about them will still flow via RTB from personal devices, their friends, family, and compromising personal contacts." • Thank you, Silicon Valley.
Tech: Love the "make real" button:
I think I need to go lie down. https://t.co/WxScGQTEKZ pic.twitter.com/wT6a7q6juZ

— Kevin Cannon (@multikev) November 15, 2023
For some definition of "real"…..
* * *
Today's Fear & Greed Index: 55 Neutral (previous close: 53 Neutral) [CNN]. One week ago: 38 (Fear). (0 is Extreme Fear; 100 is Extreme Greed). Last updated Nov 16 at 12:28:03 PM ET. Based on what? Arms dealing?
The Gallery
'Tis the season:
Ice Floes on the Seine at Bougival https://t.co/OV32xFEcqQ pic.twitter.com/QbhFNuQz8W

— 𝘽𝙖𝙣𝙜𝙠𝙤𝙠𝙇𝙞𝙛𝙚 (@BangkokLife) November 16, 2023
I remember a painting of snow by Pisarro at the Boston MFA that captured the glittery whiteness of fresh snow on crisp, sunny day. Whiteness, at least from a few feet away; close up, the snow was tiny dots of different bright colors: red, blue, yellow…
Class Warfare
"UAW-General Motors contract has enough votes for ratification" [Politico]. "United Auto Workers members at General Motors had enough votes Thursday to ratify their contract with the company, according to a tracker maintained by the union, checking the first of three boxes needed to officially end the strike against the Detroit automakers…. Votes at Ford and Stellantis were still ongoing as ofThursday morning.
"Starbucks workers strike at 200 union stores on Red Cup Day" [Axios]. • Good. Also good:
Teamsters don't cross picket lines! Thanks to them not crossing our picket to deliver tomorrow's supplies, any scabs at our Starbucks tomorrow morning won't have milk, cups, sandwiches, or dignity https://t.co/7ubgnyZchE pic.twitter.com/1X6QmxPNiO

— Sara Mughal (@_SaraMughal) November 16, 2023
News of the Wired
"The Truth is Always Made of Details" [Raptitude]. "If you were instructed to draw a leaf, you might draw a green, vaguely eye-shaped thing with a stem. But when you study a real leaf, say an elm leaf, it's got much more going on than that drawing. It has rounded serrations along its edges, and the tip of each serration is the end of a raised vein, which runs from the stem in the middle. Tiny ripples span the channels between the veins, and small capillaries divide each segment into little "counties" with irregular borders. I could go on for pages….. The Information Age is clearly pushing us towards low-res conclusions on questions that warrant deep, long, high-res consideration. Consider our poor hominid brains, trying to form a coherent worldview out of monetized feeds made of low-resolution takes on the most complex topics imaginable — economic systems, climate, disease, race, sex and gender. Unsurprisingly, amidst the incredible volume of information coming at us, there's been a surge in low-res, ideologically-driven views: the world is like this, those people are like that, X is good, Y is bad, A causes B. Not complicated, bro…. …. I can't help but think we'd benefit from a conscious intention to see things in terms of their details again, dialing up the default resolution at which we engage with both our experiences and our ideas. The world exists in infinite resolution, and that's what we're built for. The truth is made of details, and they go all the way down. Any ideas about it just rest on the top." • Obviously a congenial set of ideas for me. Well worth a read!
* * *
Contact information for plants: Readers, feel free to contact me at lambert [UNDERSCORE] strether [DOT] corrente [AT] yahoo [DOT] com, to (a) find out how to send me a check if you are allergic to PayPal and (b) to find out how to send me images of plants. Vegetables are fine! Fungi and coral are deemed to be honorary plants! If you want your handle to appear as a credit, please place it at the start of your mail in parentheses: (thus). Otherwise, I will anonymize by using your initials. See the previous Water Cooler (with plant) here. From griffen: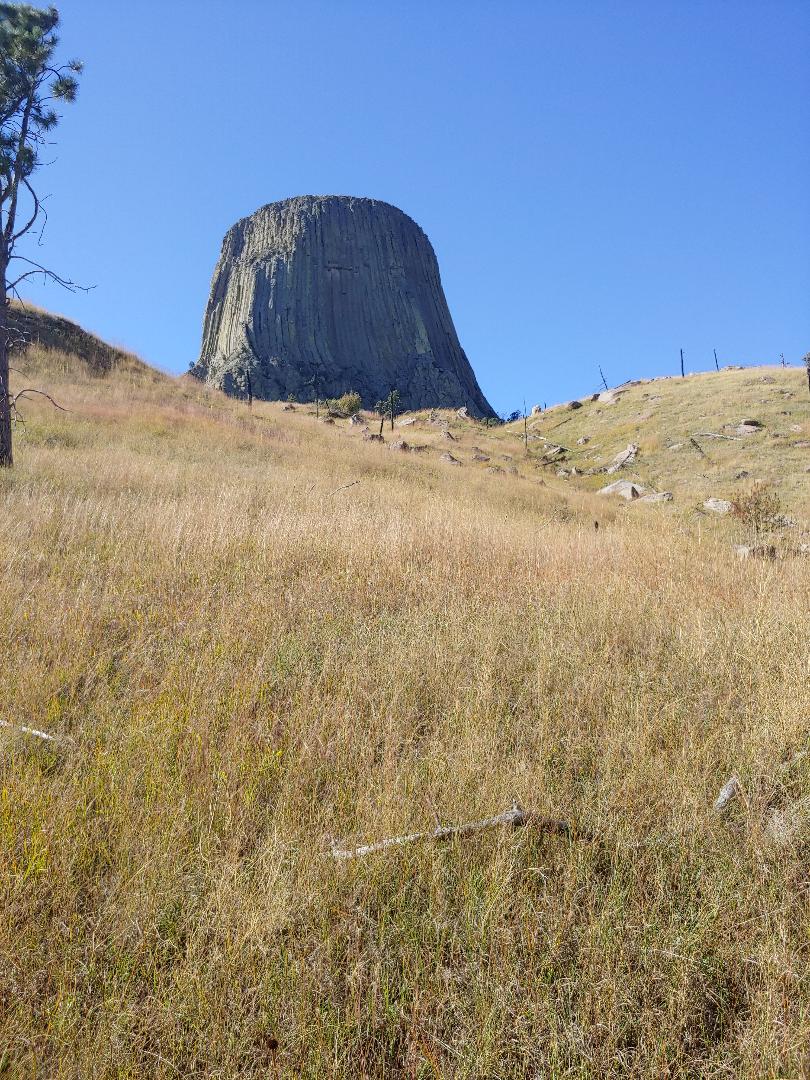 griffen writes: "I dont have a bucket list but in late September visited parks in SD, and here at Devils Tower in Wyoming. Pretty incredible visit, hikes."
* * *
Readers: Water Cooler is a standalone entity not covered by the annual NC fundraiser. So if you see a link you especially like, or an item you wouldn't see anywhere else, please do not hesitate to express your appreciation in tangible form. Remember, a tip jar is for tipping! Regular positive feedback both makes me feel good and lets me know I'm on the right track with coverage. When I get no donations for five or ten days I get worried. More tangibly, a constant trickle of donations helps me with expenses, and I factor in that trickle when setting fundraising goals:
Here is the screen that will appear, which I have helpfully annotated: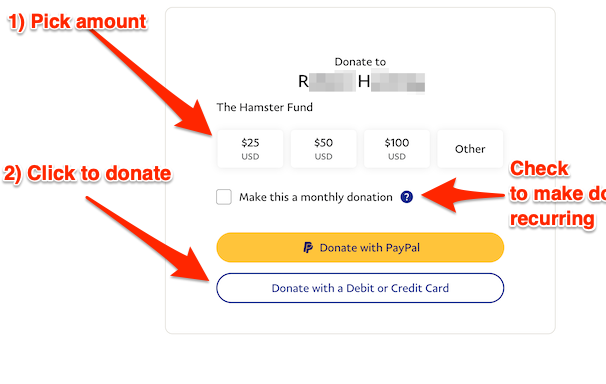 If you hate PayPal, you can email me at lambert [UNDERSCORE] strether [DOT] corrente [AT] yahoo [DOT] com, and I will give you directions on how to send a check. Thank you!