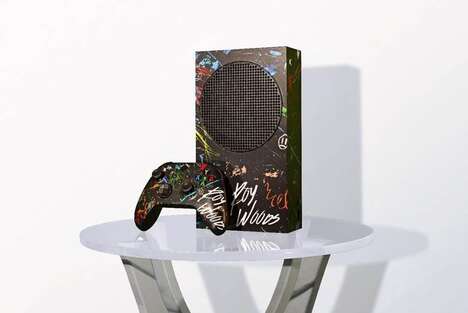 Xbox Canada has unveiled the Roy Woods capsule collection in collaboration with the Canadian rapper and musical artist. The collection includes a Roy Woods themed "Xbox Series S", an "Xbox Wireless Controller" and a range of clothing. The Xbox console and controller both feature a black base with splashes of colors, words and symbols, each inspired by Woods' upcoming album "Mixed Emotions".
On top of that, the rapper is releasing a clothing collection that shares designs similar to those of the custom Xbox console. Woods said he has an established love of Xbox as a brand because not only was it his first console, but also that he still enjoys the Xbox ecosystem to this day. According to Woods, the quirky choice of canvas design was made to tell an expressive story to a wide range of fans.
Xbox fans and Roy Woods fans can participate in a giveaway to receive the console exclusive online on the Xbox Canada Twitter channel.
Image credit: Xbox Canada