Cloud Native Computing Foundation leaps on the AI bandwagon • The Register
KubeCon Kubernetes is having its Linux moment, Cloud Native Computing Foundation's Priyanka Sharma told KubeCon in Chicago yesterday. Her proclamation was rapidly followed by every IT presenter's nightmare – a demo problem live on stage.
A Linux moment indeed, or one that a cynic might suggest demonstrates that even the leadership of the CNCF can't make Kubernetes work properly. The demo, which appeared to stall during the creation of local resources, stuttered to life later, according to Sharma. Perhaps an even worse look than a straightforward crash.
However, regardless of live demo issues, the CNCF emphasized the AI nature of its "moment." Companies ranging from OpenAI and Hugging Face were wheeled out to show how the orchestration technology lurks behind the scenes for many an AI application. Even before Sharma had to load up the demo, she was attempting to fire up a basic chatbot on a local machine.
Kubernetes is becoming a ubiquitous technology. This means the CNCF itself is at an inflection point as the technology shifts from developer darling to just another part of enterprise infrastructure. So where now?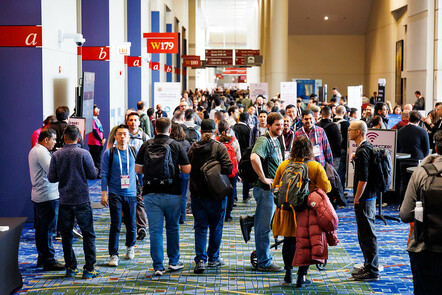 Attendees at KubeCon US 2023
Judging by this week's North American KubeCon, many within the CNCF have latched onto AI as a potential future, despite others – such as CNCF CTO Chris Aniszczyk – looking to the promise of Web Assembly as the next generation of container technology.
Then there was the elephant in the room – licensing – barely mentioned during the first keynote but very much a topic of discussion in the hallways. In a reminder of some of the tensions that exist in the Linux world, attendees were treated to the sight of Oracle following Red Hat on the keynote stage.
Big Red was not shy when it came to administering a presentation-based slap to Red Hat, highlighting its Linux chops and commitment to open source – something that might come as a surprise to users having to deal with the company's approach to licensing. Sitting proudly at the top of one slide was ELA, the Enterprise Linux Association.
Sadly, we could not see the reaction of the Red Hatters in attendance.
Doubtless, the audience would have preferred a Zuckerberg/Musk-style punch-up on stage to clear the air between the two, but it was not to be. Even the sight of a Microsoft representative insisting Microsoft is committed to environmental ideals, despite its Windows 10 roadmap, did little to enliven proceedings.
And the CNCF? Despite a demo falling over live on stage – and thus carrying echoes of Bill Gates' Windows 98 incident – the event continues to get ever more corporate.
AI hype aside, the ongoing enterprise acceptance of cloud-native technology is very much today's moment for the CNCF. ®