God Closes Manhattan District Attorney Trump Investigation Door, Opens Fulton County Grand Jury Window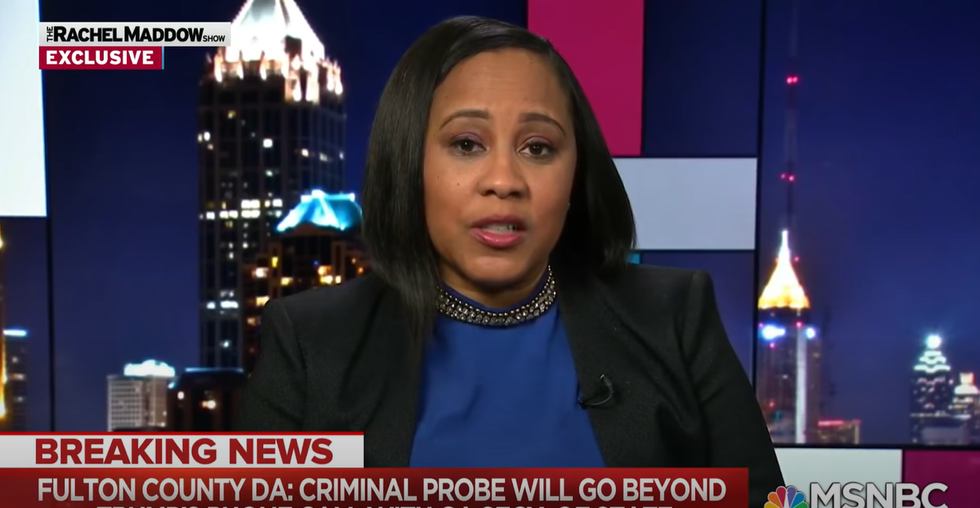 If you are an American who has struggled with impatience these past few months, wondering if Donald Trump or anyone else he cares about, will ever face consequences for literally trying to overthrow the United States government and the results of a free presidential election. fair in 2020 and 2021, you should know that something is happening in Atlanta today.
Today, a special grand jury was impaled in Fulton County, Georgia, in District Attorney Fani Willis' investigation into Trump's efforts to overturn an election in Georgia. And all of you, them shut down traffic center around the Fulton County Justice Center Complex for this. Basically they are telling people that unless you are called to be on the jury for it, stay away if you can.
"We're treating it like any other big event the city and county has been able to host over the years, whether it's the Super Bowl or the NCAA," Fulton County Sheriff Pat Labat said when asked about the security measures during the grand jury. selection.
the Atlanta Journal-Constitution explains that this special grand jury will have 23 people plus three alternates, can sit for up to a year and is different from a normal grand jury in that they cannot issue indictments, but rather make recommendations. And if Willis wants charges, he'll have to go to a regular grand jury to get them. This special grand jury also has the power to sue, which is just as good 30 witnesses refused voluntarily testify in Willis' investigation. (She is Talk to 50 people so far. He says there are another 60-ish on his list of him. This is a great investigation.)
---
There will be a lot to investigate this special grand jury. There is Trump's perfect call with Georgia Secretary of State Brad Raffensperger, where he pleaded with Raffensperger to "get him" 11,780 votes so he could win Georgia. There is Trump's perfect call with Frances Watson, the chief investigator in Raffensperger's office, where Trump pushed her like a common mafia boss in the direction of the county where Trump wanted him to "get" all these votes. There's Lindsey Graham's perfect call in Raffensperger not long after the election. There is the very abrupt dismissal by former US Attorney Byung J. "Bjay" Pak, apparently for his refusal to find Trump a fictional election fraud. There is Rudi Giuliani.
And curiously, when Willis talked about this investigation, he used the word "racket", which has a fairly broad meaning under the state law of Georgia. He hired a lawyer named John Floyd, known to be the racketeering expert under the law of Georgia.
the Constitution of the newspaper also mentions that Willis may decide to investigate those false voters from Georgia who tried to cast false electoral votes for Trump, the loser who lost Georgia.
What kinds of violations of the law might DA Willis be looking for? Let's review the list!
Willis previously told state officials that among potential violations of Georgia law he was looking into criminal enticement to commit election fraud, intentional interference in electoral duties, conspiracy and racket.
Yes, there's that racket word again!
In case you're worried, Willis might give in and freak out like a commoner Manhattan, it's not the atmosphere she emits But if you need more reassurance:
If there's enough evidence that someone has committed a crime, Willis said recently The Atlanta Journal-Constitution, "I'm going to file an indictment, I don't care who he is."
She doesn't care who she is.
For updates on the selection process, Atlanta Journal-Constitution reporter Tamar Hallerman it's a good sequel.
Fuck it, DA Willis!
[11 Alive / Atlanta Journal-Constitution]
Follow Evan Hurst on Twitter right here!

Wonkette is FULLY funded by a few thousand people like you. If you aren't already, would you consider yourself to be the few thousandth and one?
window.REBELMOUSE_ACTIVE_TASKS_QUEUE.push(function(){
!function(f,b,e,v,n,t,s) {if(f.fbq)return;n=f.fbq=function(){n.callMethod? n.callMethod.apply(n,arguments):n.queue.push(arguments)}; if(!f._fbq)f._fbq=n;n.push=n;n.loaded=!0;n.version='2.0'; n.queue=[];t=b.createElement(e);t.async=!0; t.src=v;s=b.getElementsByTagName(e)[0]; s.parentNode.insertBefore(t,s)}(window, document,'script', 'https://connect.facebook.net/en_US/fbevents.js'); fbq('init', '482172895483293'); fbq('track', 'PageView');
});
window.REBELMOUSE_ACTIVE_TASKS_QUEUE.push(function(){
/*! getClosest.js | (c) 2017 Chris Ferdinandi | MIT License | http://github.com/cferdinandi/getClosest */ /** * Get the closest parent element that matches a selector. * @param {Element} elem Starting element * @param {String} selector Selector to match against * @return {Boolean|Element} Returns null if not match found */ var getClosest = function(elem, selector) {
// Element.matches() polyfill if (!Element.prototype.matches) { Element.prototype.matches = Element.prototype.matchesSelector || Element.prototype.mozMatchesSelector || Element.prototype.msMatchesSelector || Element.prototype.oMatchesSelector || Element.prototype.webkitMatchesSelector || function(s) { var matches = (this.document || this.ownerDocument).querySelectorAll(s), i = matches.length; while (--i >= 0 && matches.item(i) !== this) {} return i > -1; }; }
// Get closest match for (; elem && elem !== document; elem = elem.parentNode) { if (elem.matches(selector)) return elem; }
return null;
};
// Vanilla JS
var className="active";
// getting current URL and adding a class on the current menu item
var path = location.pathname.split("https://www.wonkette.com/")[1]; var link = document.querySelectorAll('.menubar a[href="https://www.wonkette.com/" + path + '"]'); if (link[0]) { if (link[0].classList) { link[0].classList.add(className); } else { link[0].className += ' ' + className; } }
// remove class from home-link var home = document.getElementsByClassName('home__item'); if (home[0]) { if (home[0].classList) { home[0].classList.remove(className); } else { home[0].className = home[0].className.replace(new RegExp('(^|\\b)' + className.split(' ').join('|') + '(\\b|$)', 'gi'), ' '); } }
// search the closest parent and adding an active class on it too
var closestParent = getClosest(link[0], '.menubar_item-dropdown');
if (closestParent) { if (closestParent.classList) { closestParent.classList.add(className);
} else { closestParent.className += ' ' + className; } }
var socials = document.getElementsByClassName('social-links')[0]; var cloneSocials = socials.cloneNode(true);
var menu = document.getElementById("menubar"); var cloneMenu = menu.cloneNode(true);
var mobileMenu = document.getElementsByClassName('main-menu-wrapper')[0]; var beforeEl = document.getElementsByClassName('menu-global__search-form')[0];
mobileMenu.insertBefore(cloneSocials, beforeEl); mobileMenu.insertBefore(cloneMenu, beforeEl);
if (!document.body.classList.contains('logged-out-user')) { var existCondition = setInterval(function() { var userLink = document.querySelectorAll('.main-menu-item--my_page .link'); if (userLink.length) { clearInterval(existCondition); var membersLink = document.querySelectorAll('#membersLink'); var userUrl = userLink[0].href; Array.prototype.forEach.call(membersLink, function(el) { el.href = userUrl; });
if (document.querySelector('.main-menu-item--designer_editor')) { document.querySelector('.main-menu-wrapper').classList.add('user-admin'); } } }, 500); } else { var existCondition = setInterval(function() { var userLink = document.querySelector('.main-menu-item--login .link'); if (userLink) { clearInterval(existCondition); userLink.href="http://www.wonkette.com/core/users/email_login/"; } }, 500)
}
function copyValue(el) { var thisVal = el.options[el.selectedIndex].text; var closestForm = getClosest(el, 'form'); var paypalAmount = closestForm.nextSibling.querySelector('.paypal-amount'); paypalAmount.value = thisVal; }
document.addEventListener("scroll", createIdleScrollListener(() => { if (window.scrollY > 0) { document.body.classList.add('page-scrolled'); } else { document.body.classList.remove('page-scrolled'); } }));
function createIdleScrollListener(callback) { let ticking = false;
return function onScrollIdle() { if (ticking) { return; } ticking = true; requestAnimationFrame(() => { callback(); ticking = false; }); }; }
});
window.REBELMOUSE_ACTIVE_TASKS_QUEUE.push(function(){
window.addEventListener("scroll", () => { if(this.scrollY > 50 ) { document.querySelector(".rebelbar.rebelbar--fixed.skin-simple").style.display = 'none' } else document.querySelector(".rebelbar.rebelbar--fixed.skin-simple").style.display = 'block' });
});
window.REBELMOUSE_ACTIVE_TASKS_QUEUE.push(function(){
window.REBELMOUSE_STDLIB.loadExternalScript("https://checkout.stripe.com/checkout.js", function() {
if (!Element.prototype.matches) Element.prototype.matches = Element.prototype.msMatchesSelector || Element.prototype.webkitMatchesSelector;
if (!Element.prototype.closest) Element.prototype.closest = function(s) { var el = this; if (!document.documentElement.contains(el)) return null; do { if (el.matches(s)) return el; el = el.parentElement || el.parentNode; } while (el !== null && el.nodeType === 1); return null; };
function formsHandling() { var formDonate = document.querySelectorAll('.donation-form:not(.processed)');
formDonate.forEach(function(formEl) { var formEl = formEl;
formEl.classList.add("processed");
formEl.addEventListener("submit", function(event) { event.preventDefault(); });
var donationBtns = formEl.querySelectorAll('.donate-button');
donationBtns.forEach(function(el) { el.addEventListener("click", function(event) { event.preventDefault(); formProcessing(el) }); });
function formProcessing(el) { var btn = el; var payment = btn.getAttribute('data-payment'); var planType = formEl.querySelector('input[name="plan_type"]:checked').value; var checkedOption = formEl.querySelector('input[name="amount"]:checked'); var amount = checkedOption.value * 1; var amountOptional = checkedOption.getAttribute('data-amount'); var dataValue = checkedOption.getAttribute('data-value'); var action;
if ( formEl.contains(formEl.querySelector('.remove-me')) ) { formEl.querySelectorAll('.remove-me').forEach(function(el){ el.remove() }); }
if ( payment == "paypal" ) { formEl.action = "https://www.paypal.com/cgi-bin/webscr"; formEl.setAttribute('target', '_blank');
addHidden( 'currency_code', 'USD'); addHidden( 'cmd', ''); addHidden( 'return', "https://www.wonkette.com/st/Wonkettes_Hero"); addHidden( 'cancel_return', window.location.href);
if ( planType == "once" ) { checkedOption.value = dataValue; formEl.querySelector('input[name="cmd"]').value="_donations"; addHidden( 'business', 'rebecca@wonkette.com'); addHidden( 'item_name', 'Wonkette Donation'); addHidden( 'item_number', 'Just Once');
//add new params addHidden( 'a3', dataValue); addHidden( 'p3', 1); addHidden( 't3', 'D');
} else if ( planType == "monthly" ) { formEl.querySelector('input[name="cmd"]').value="_xclick-subscriptions"; addHidden( 'business', 'rebecca@wonkette.com'); addHidden( 'item_name', 'Wonkette Recurring Donation'); addHidden( 'item_number', 'wonkette_recurring');
//add new params addHidden( 'a3', dataValue); addHidden( 'p3', 1); addHidden( 't3', 'M'); addHidden( 'src', 1); addHidden( 'srt', 52); } formEl.submit(); } else if ( payment == "strip" ) { addHidden( 'entity_type', 1); addHidden( 'plan_type', 1); addHidden('entity_id', getSiteId() ); checkedOption.value = dataValue * 100;
if ( planType == "once" ) { formEl.action = "/core/payment/single_donation"; addHidden( 'plan_name', 'One Time Donation'); stripInit(amount, 'One Time Donation');
} else if ( planType == "monthly" ) { formEl.action = "/core/payment/recurring_donation"; addHidden( 'plan_name', 'Monthly Donation'); addHidden( 'plan', 'donation_' + amount); stripInit(amount, 'Monthly Donation'); }
}
} function addHidden(key, value) { // Create a hidden input element, and append it to the form: var input = document.createElement('input'); input.type="hidden"; input.name = key; input.value = value; input.className += 'remove-me'; formEl.appendChild(input); }
function stripInit(amount, description) { var token = function(res){ addHidden('stripeToken', res.id); addHidden('stripeEmail', res.email); formEl.submit(); };
if (amount) { StripeCheckout.open({ key: 'pk_live_7dJjNGbMgTkHfEasr9FsLcjF', // real //key: 'pk_test_zbMpaIyMyHJ7TLUEheC7q2iS', //test amount: amount, name: 'Wonkette', image: 'https://assets.rbl.ms/16950638/origin.png', description: description, panelLabel: 'Donate', token: token, locale: 'auto' }); } else { window.alert('Select donation amount first') } } });
function getSiteId() { var site_id = null; var inner = document.querySelector('html').innerHTML var str = inner.split('"site_id": '); if( str[1] != undefined ){ site_id = str[1].split(',')[0]; } return !isNaN(site_id) ? site_id : false; } }
formsHandling();
REBELMOUSE_STDLIB.createElementChangeListener(".show-more.js-expand:not(.processed)", (el) => { const keepReading = el; keepReading.classList.add("processed"); keepReading.addEventListener("click", function() { setTimeout(formsHandling, 500) }); });
});
});
window.REBELMOUSE_ACTIVE_TASKS_QUEUE.push(function(){
window.disqus_config = function () { this.page.identifier = "2657249513", this.page.url = "https://www.wonkette.com/god-closes-manhattan-da-trump-investigation-door-opens-fulton-county-grand-jury-window"; }; var disqusCt = document.createElement('div'), disqus_config; disqusCt.id = 'disqus_thread'; (function () { var d = document, s = d.createElement('script'); s.src="https://wonkettecom.disqus.com/embed.js"; s.setAttribute('data-timestamp', +new Date()); (d.head || d.body).appendChild(s); })();
function loadCountScript(callback) { var s = document.createElement('script'); s.type="text/javascript"; s.async = true; s.id = 'dsq-count-scr'; s.src = "//wonkettecom.disqus.com/count.js"; var x = document.getElementsByTagName('script')[0]; x.parentNode.insertBefore(s, x); s.onload = () => callback(s); document.head.append(s); } loadCountScript(script => { /*Add comment Button to all articles*/ REBELMOUSE_STDLIB.createElementChangeListener(".share-panel:not(.js--has-comments)", (el) => { let sharesPanel = el; sharesPanel.classList.add('js--has-comments'); if (sharesPanel.closest('.article__shares')) { let postId = window.REBELMOUSE_BOOTSTRAP_DATA.post.id, postURL = location.protocol + '//' + location.host + location.pathname; addButton(postURL, postId, sharesPanel); } else if (sharesPanel.closest('.widget')) { let thisPost = sharesPanel.closest('.widget'), postId = thisPost.getAttribute('elid'), postURL = thisPost.querySelector('.widget__headline-text').getAttribute('href'); addButton(postURL, postId, sharesPanel); } }); });
function addButton(url, id, el) { var commentBtn = document.createElement('span'); //commentBtn.href = url; commentBtn.classList.add('js--toggleDisqus'); commentBtn.classList.add('disqus-comment-count'); commentBtn.setAttribute('data-disqus-url', url); commentBtn.setAttribute('data-postid', id); //commentBtn.setAttribute('data-disqus-identifier', id); commentBtn.innerText="0"; el.append(commentBtn); DISQUSWIDGETS.getCount({ reset: true }); //console.log(url, id); } REBELMOUSE_STDLIB.createElementChangeListener(".js--toggleDisqus:not(.js--callDisqus-processed), .show-more:not(.js--callDisqus-processed)", (el) => { console.log('run callDisqus()'); var timeOut = 10; if (el.classList.contains("show-more")) { timeOut = 1000; } el.classList.add('js--callDisqus-processed') el.addEventListener('click', function () { setTimeout(function () { let t = el, thisPost = t.closest('article') || t.closest('.js-section-loader-feature-container'), postId = t.getAttribute('data-postid'), postURL = t.getAttribute('data-disqus-url'); document.querySelector('#disqus_thread') && document.querySelector('#disqus_thread').remove(); if (t.closest('.article__shares')) { let postWrap = document.querySelector('.mobile-post-wrapper'); postWrap.appendChild(disqusCt); } else { let afterEl = t.closest('.widget'); if (afterEl) { afterEl.parentNode.insertBefore(disqusCt, afterEl.nextElementSibling); } } console.log('DISQUS.reset', postId, postURL); DISQUS.reset({ reload: true, config: function () { this.page.identifier = postId; this.page.url = postURL; } }); if (t.classList.contains('js--toggleDisqus')) { let disqus = document.getElementById("disqus_thread"); // disqus.scrollIntoView(); } }, timeOut) }); }); // Hide hidden tip-jar, idk why window.REBELMOUSE_STDLIB.createElementChangeListener(".js-keep-reading:not(.js-processed)", (el) => { let keepReading = el; keepReading.classList.add('js-processed'); //keepReading.closest('.mb-2').nextElementSibling.style.display='none'; });
});