HD gaming smartphone: snapdragon 8 gen 1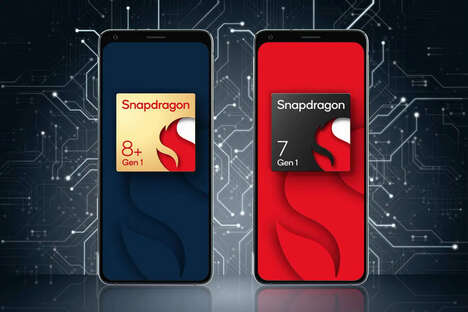 Qualcomm's "Snapdragon 8 Gen 1" adds a new smartphone to its lineup with a new "Plus" edition that offers enhanced specs and improved performance. The "Snapdragon 8 Plus Gen 1" offers 10% faster CPU performance and GPU clock and 15% lower power consumption for an extra hour of use.
The new phone doesn't stray too far from the features of the original Snapdragon 8, still offering Wi-Fi, Bluetooth, 10Gbps of 5G Modern-RF, and 8K HDR video capture. The "Snapdragon 8 Plus Gen 1" boasts performance supported by the new chip, maintaining an efficient clock speed for a longer period of time.
Several gaming companies have signed up for the new chip, opting for the 8 Plus over the "Snapdragon 7 Gen 1" announced today. Qualcomm is expected to announce its "Snapdragon 8 Gen 2" in late 2022.
Image credit: Qualcomm