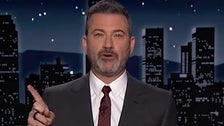 Jimmy Kimmel called republicans as they continue to wage their war on women's rights, also noting that other nations are moving in the opposite direction.
"Meanwhile, here in the United States, Republican leaders in Washington are writing a bill that says that if a woman has her period in the workplace, she is guilty of witchcraft and should be caught in a burlap sack and thrown in. sea, "he said.
Kimmel also noted that Republicans in the Senate blocked a bill that would protect the right to abortion.
See more in his Thursday night monologue: