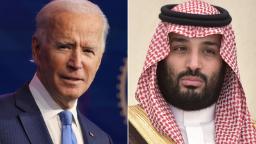 Now President Biden isn't so sure. The Wall Street Journal recently reported that Biden had sent CIA Director William Burns
encounter
and explore fence repair with the reckless and ruthless crown prince. And there have been reports in recent months that Biden's advisers
he was considering
a presidential visit to Saudi Arabia this spring. In light of the reports that Biden is
considering a trip
to Israel and perhaps to the region, the President should resist the temptation and slow any reconciliation. If there is an apology to excuse, he lets the Saudis take the first step and make sure their results are sufficient to justify a reconciliation.
It is easy to see how it can be argued that the time has come to move beyond the Khashoggi murder, kissing and putting on makeup. The Russian invasion of Ukraine has disrupted the oil market and created severe supply shortages. And the only big one available
save production capacity
it's in the Gulf.
Finally, at a time when Iranian nuclear negotiations have stalled, what better way to increase the pressure on Tehran than to welcome Saudi Arabia (and MBS) back into the fold. Indeed, add some security guarantees that presuppose both Saudi and Emirati concerns over US complacency in the wake of Iranian-backed Houthis attacks and a dream reconciliation would be complete.
Not so nearly. The strong tensions between the United States and Saudi Arabia did not happen overnight; nor will they somehow magically be dealt with by the throat sugar the Donald Trump administration created by pampering MBS and meddling for him on human rights abuses, the war in Yemen and the murder of Khashoggi. If the Saudis take reconciliation seriously, they should be willing to accept US concerns, and it is by no means certain that they are.
If Biden agreed to end his de facto boycott of MBS without the Crown Prince taking responsibility for the gruesome murder, the president's entire commitment to reintegrating values ​​and human rights into US foreign policy would be undermined.
There is no doubt that Saudi Arabia is moving closer to Israel; and it is likely that if MBS were now king, he would be willing to take bolder steps than his father, the current king who is much more of a traditionalist committed to the Palestinian question.
The relationship between the United States and Saudi Arabia has always been transactional. And this is how Biden should deal with any reconciliation, careful to ensure that not only America's interests and credibility are protected, but his as well. If the Saudis want to come in from the cold, he lets them identify the key findings on oil, Khashoggi and Yemen. And whatever security guarantees they want in return should be reasonable and not bind the United States to the policies of a ruthless and reckless authoritarian who may want to involve the United States in a war with its archenemy Iran.
Biden probably already knows that under MBS, at best, Saudi Arabia risks remaining an unpredictable partner whose interests occasionally align with American ones but whose values ​​never do.