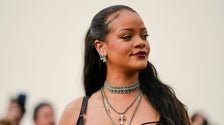 Vogue paid tribute to the billionaire singer with his head spinning digital statue of Rihannavirtually placed in the Metropolitan Museum of Art. The statue recreated it recently Vogue cover pose and the tight Alaïa leotard she wore that accentuated her baby bump.
The statue was digitally displayed against the backdrop of other marble figures in the museum's Greco-Roman galleries.
"Close the half in marble! what's more golden than this? lol! "the R&B icon, who always nails a themed look, wrote in a Instagram post celebrate tribute.
"Thanks @metmuseum and @voguemagazine for this historic tribute! you're all bad for it! "she added along with the video with the artwork.
The video has already received millions of views, leaving thousands of Rihanna fans glued to their screens.
The Bad Gal graced the cover of the fashion and lifestyle magazine's May issue, explaining why she planned to keep her on-trend style while pregnant.
"When I found out I was pregnant, I thought to myself, 'I'm not going to go shopping in any maternity ward.' I'm sorry, it's too much fun to dress up, "she confessed." I'm not going to let that part disappear because my body is changing. "
The Barbadian singer and her boyfriend, A $ AP Rocky, rocked the internet in January after announcing they were expecting their first child.