Six Flint women honored with sculptures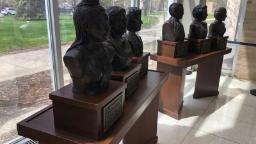 flint, mich. (WNEM) – The city of Flint pays tribute to six women who have been important in the history of the city.
Flint Mayor Sheldon Neeley dedicated a statue honoring the women who contributed to a better life for the city.
The first group of honorees includes Claressa Shields, Edith Prunty Spencer, Dr. Mona Hanna-Attisha, Sybyl McPeake Atwood, Frances Wilson Thompson and Olive Beasley.
Shields said she is proud to represent Flint.
"I'm just really grateful to be here. Glad Flint knows I'm carrying you all on my back. I take you all to every country, every fight, every city, every state, "Shields said.
The bronze statues debuted on Thursday at the town hall.
Copyright 2022 WNEM. All rights reserved.