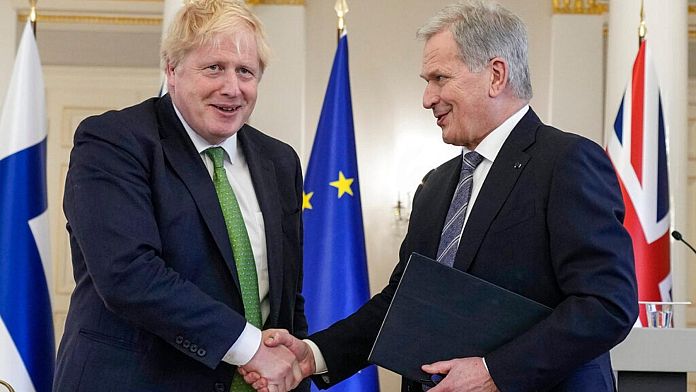 British Prime Minister Boris Johnson has promised to defend Finland and Sweden if either country is attacked.
On Wednesday he made the promise during a whistle-stop tour of the two Nordic countries, where he met with Swedish Prime Minister Magdalena Andersson at her official country residence; then the Finnish president Sauli Niinistö in Helsinki.
Sweden and Finland are currently considering joining NATO after the Russian invasion of Ukraine on February 24.
This is a key week for the NATO debate, with Niinistö and Finnish Prime Minister Sanna Marin announcing their decisions on applying to join the military alliance on Thursday morning.
The new agreement "will strengthen Northern Europe's defenses in the face of new threats," Johnson said in a statement.
"This is not a short-term fallback, but a long-term commitment to strengthen military ties and global stability and strengthen Europe's defenses for generations to come," Johnson said in the statement.
Finland shares a 1,340-kilometer land border with Russia, while Sweden has no land border but has strategically important islands in the Baltic Sea near the Russian exclave of Kaliningrad.
In practice, Johnson says the deal will also deepen ties between the British military and the Swedish and Finnish armies, which have already cooperated ever more closely under the auspices of the Joint Expeditionary Force, which is made up of ten countries of the Northern Europe and led by the United Kingdom.
The Kremlin warned of "military and political repercussions" if Sweden and Finland decide to join NATO.
If Sweden and Finland apply, there will be an interim period between applying and all 30 parliaments of NATO members ratifying their membership. This process could take anywhere from four months to a year.
"The Russian invasion of Ukraine changed the European security equation. It rewrote our reality and reshaped our future," Johnson told a Helsinki press conference.
Responding to a question about how Russia should feel about Finland's possible membership of NATO, President Niinistö said "you caused this. Look in the mirror".
In a statement, the Finnish president's office noted that the mutual military assistance commitment was "a political declaration and not a binding legal commitment under international law".