Trevor Noah Roasts CNN For Abusing Breaking News Alerts: "Boy Crying Wolf"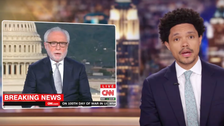 Trevor Noah made fun of CNN Tuesday for abusing its breaking news banner after its new leader ordered staff to cut back on the practice.
"For years, CNN is known for overestimating every story as if it were the zombie apocalypse, "" The daily showthe host said. "It's like, 'BREAKING NEWS: mid-term elections are now six months away!'"
"And unsurprisingly, this approach has started to backfire, as viewers have learned to turn it off. Like the boy who cried wolf. Or in this case, the wolf crying wolf, "Noah added, as the image of veteran CNN host Wolf Blitzer appeared on the screen.
Chris Licht, the new president of CNN, recently told employees that moving forward, the breaking news banner will only be for important news. according to the New York Times. CNN updated its standards guide to state that a news story must qualify as "'Stop what you're doing and watch' the news" to secure the "Breaking News" label.
Check out Noah's roast below: