Tucker hates the new press officer, guess why, I bet you can't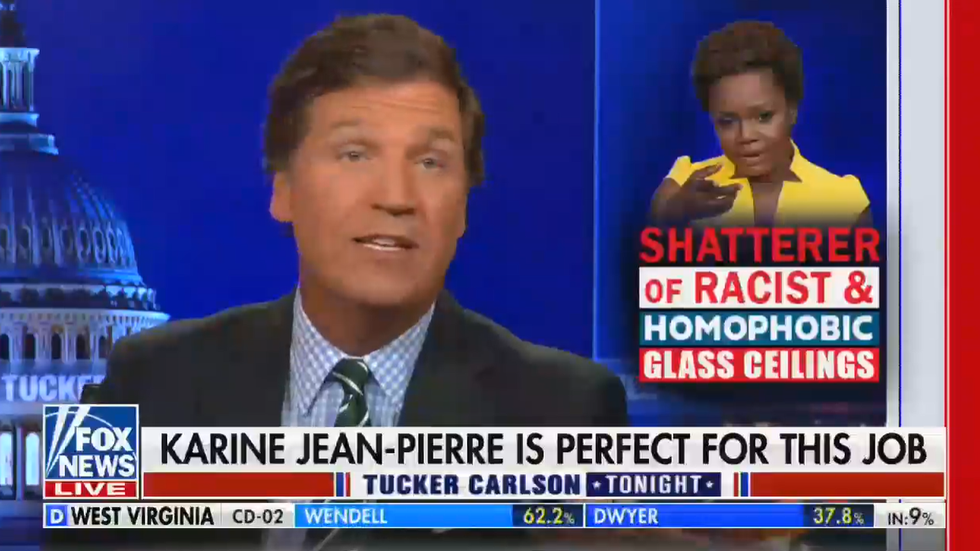 Oh nothing, just Tucker Carlson analyzing the news through the lens of all his myriad inadequacies and masculinity complexes: the bathroom, the one he bragged about:
---
TUCKER CARLSON (HOST): Karine Jean-Pierre is our first LGBTQ + press officer in the White House and that's all you need to know. It's a good thing, shut up and celebrate. That's why she got the job.

She is in the right group and therefore the Biden administration, which thinks exclusively in terms of groups and never in terms of individuals because individuals are messy and uncomfortable, the group is all that matters.
No, mediocre white boy with a porcelain ass, that's not true because got the job, it's just another broken glass ceiling. She got the job because she is great.
This is exactly how Supreme Court justices, Vice Presidents or Federal Reserve Board members choose.
It is not. But you know one thing the newer Supreme Court justice has in common with the Vice President has in common with the most recent member of the Federal Reserve Board has in common with Karine Jean-Pierre?
They are all close to Tucker Carlson for some reason. What do you all do you think it is?
And now, the all-important press secretary assignment has gone to someone on the group base. It's really simple, show us your photo and we'll tell you if you're qualified for the job.
This is how inadequate white men explain why they were ignored for the job.
And in many ways, Karine Jean-Pierre is perfect for the job.
This should be good.
Not only is it a member of the LGBTQ + community, but it is also, critically, the product of an Ivy League private school and college and yet is still somewhat oppressed. She is furious with America despite her extensive privileges and furious at its racist systems of oppression. She and she are happy to tell you about it.
Okay, Tucker.
He went on to play a clip of Karine Jean-Pierre doing none of those things, but we think it sounds like that when you're so inferior.
Anyway, if you watch the clip, you will see that Tucker often makes his high-pitched yelps and pronounces Karine Jean-Pierre's surname way too much, because as we all know, French names are gay and if you pronounce them like a normal person without affecting a mocking tone, now you will be gay. These are the rules.
Or something.
End.
Follow Evan Hurst on Twitter right here!

Wonkette is FULLY funded by a few thousand people like you. If you aren't already, would you consider yourself to be the few thousandth and one?
window.REBELMOUSE_ACTIVE_TASKS_QUEUE.push(function(){
!function(f,b,e,v,n,t,s) {if(f.fbq)return;n=f.fbq=function(){n.callMethod? n.callMethod.apply(n,arguments):n.queue.push(arguments)}; if(!f._fbq)f._fbq=n;n.push=n;n.loaded=!0;n.version='2.0'; n.queue=[];t=b.createElement(e);t.async=!0; t.src=v;s=b.getElementsByTagName(e)[0]; s.parentNode.insertBefore(t,s)}(window, document,'script', 'https://connect.facebook.net/en_US/fbevents.js'); fbq('init', '482172895483293'); fbq('track', 'PageView');
});
window.REBELMOUSE_ACTIVE_TASKS_QUEUE.push(function(){
/*! getClosest.js | (c) 2017 Chris Ferdinandi | MIT License | http://github.com/cferdinandi/getClosest */ /** * Get the closest parent element that matches a selector. * @param {Element} elem Starting element * @param {String} selector Selector to match against * @return {Boolean|Element} Returns null if not match found */ var getClosest = function(elem, selector) {
// Element.matches() polyfill if (!Element.prototype.matches) { Element.prototype.matches = Element.prototype.matchesSelector || Element.prototype.mozMatchesSelector || Element.prototype.msMatchesSelector || Element.prototype.oMatchesSelector || Element.prototype.webkitMatchesSelector || function(s) { var matches = (this.document || this.ownerDocument).querySelectorAll(s), i = matches.length; while (--i >= 0 && matches.item(i) !== this) {} return i > -1; }; }
// Get closest match for (; elem && elem !== document; elem = elem.parentNode) { if (elem.matches(selector)) return elem; }
return null;
};
// Vanilla JS
var className="active";
// getting current URL and adding a class on the current menu item
var path = location.pathname.split("https://www.wonkette.com/")[1]; var link = document.querySelectorAll('.menubar a[href="https://www.wonkette.com/" + path + '"]'); if (link[0]) { if (link[0].classList) { link[0].classList.add(className); } else { link[0].className += ' ' + className; } }
// remove class from home-link var home = document.getElementsByClassName('home__item'); if (home[0]) { if (home[0].classList) { home[0].classList.remove(className); } else { home[0].className = home[0].className.replace(new RegExp('(^|\\b)' + className.split(' ').join('|') + '(\\b|$)', 'gi'), ' '); } }
// search the closest parent and adding an active class on it too
var closestParent = getClosest(link[0], '.menubar_item-dropdown');
if (closestParent) { if (closestParent.classList) { closestParent.classList.add(className);
} else { closestParent.className += ' ' + className; } }
var socials = document.getElementsByClassName('social-links')[0]; var cloneSocials = socials.cloneNode(true);
var menu = document.getElementById("menubar"); var cloneMenu = menu.cloneNode(true);
var mobileMenu = document.getElementsByClassName('main-menu-wrapper')[0]; var beforeEl = document.getElementsByClassName('menu-global__search-form')[0];
mobileMenu.insertBefore(cloneSocials, beforeEl); mobileMenu.insertBefore(cloneMenu, beforeEl);
if (!document.body.classList.contains('logged-out-user')) { var existCondition = setInterval(function() { var userLink = document.querySelectorAll('.main-menu-item--my_page .link'); if (userLink.length) { clearInterval(existCondition); var membersLink = document.querySelectorAll('#membersLink'); var userUrl = userLink[0].href; Array.prototype.forEach.call(membersLink, function(el) { el.href = userUrl; });
if (document.querySelector('.main-menu-item--designer_editor')) { document.querySelector('.main-menu-wrapper').classList.add('user-admin'); } } }, 500); } else { var existCondition = setInterval(function() { var userLink = document.querySelector('.main-menu-item--login .link'); if (userLink) { clearInterval(existCondition); userLink.href="http://www.wonkette.com/core/users/email_login/"; } }, 500)
}
function copyValue(el) { var thisVal = el.options[el.selectedIndex].text; var closestForm = getClosest(el, 'form'); var paypalAmount = closestForm.nextSibling.querySelector('.paypal-amount'); paypalAmount.value = thisVal; }
document.addEventListener("scroll", createIdleScrollListener(() => { if (window.scrollY > 0) { document.body.classList.add('page-scrolled'); } else { document.body.classList.remove('page-scrolled'); } }));
function createIdleScrollListener(callback) { let ticking = false;
return function onScrollIdle() { if (ticking) { return; } ticking = true; requestAnimationFrame(() => { callback(); ticking = false; }); }; }
});
window.REBELMOUSE_ACTIVE_TASKS_QUEUE.push(function(){
window.addEventListener("scroll", () => { if(this.scrollY > 50 ) { document.querySelector(".rebelbar.rebelbar--fixed.skin-simple").style.display = 'none' } else document.querySelector(".rebelbar.rebelbar--fixed.skin-simple").style.display = 'block' });
});
window.REBELMOUSE_ACTIVE_TASKS_QUEUE.push(function(){
window.REBELMOUSE_STDLIB.loadExternalScript("https://checkout.stripe.com/checkout.js", function() {
if (!Element.prototype.matches) Element.prototype.matches = Element.prototype.msMatchesSelector || Element.prototype.webkitMatchesSelector;
if (!Element.prototype.closest) Element.prototype.closest = function(s) { var el = this; if (!document.documentElement.contains(el)) return null; do { if (el.matches(s)) return el; el = el.parentElement || el.parentNode; } while (el !== null && el.nodeType === 1); return null; };
function formsHandling() { var formDonate = document.querySelectorAll('.donation-form:not(.processed)');
formDonate.forEach(function(formEl) { var formEl = formEl;
formEl.classList.add("processed");
formEl.addEventListener("submit", function(event) { event.preventDefault(); });
var donationBtns = formEl.querySelectorAll('.donate-button');
donationBtns.forEach(function(el) { el.addEventListener("click", function(event) { event.preventDefault(); formProcessing(el) }); });
function formProcessing(el) { var btn = el; var payment = btn.getAttribute('data-payment'); var planType = formEl.querySelector('input[name="plan_type"]:checked').value; var checkedOption = formEl.querySelector('input[name="amount"]:checked'); var amount = checkedOption.value * 1; var amountOptional = checkedOption.getAttribute('data-amount'); var dataValue = checkedOption.getAttribute('data-value'); var action;
if ( formEl.contains(formEl.querySelector('.remove-me')) ) { formEl.querySelectorAll('.remove-me').forEach(function(el){ el.remove() }); }
if ( payment == "paypal" ) { formEl.action = "https://www.paypal.com/cgi-bin/webscr"; formEl.setAttribute('target', '_blank');
addHidden( 'currency_code', 'USD'); addHidden( 'cmd', ''); addHidden( 'return', "https://www.wonkette.com/st/Wonkettes_Hero"); addHidden( 'cancel_return', window.location.href);
if ( planType == "once" ) { checkedOption.value = dataValue; formEl.querySelector('input[name="cmd"]').value="_donations"; addHidden( 'business', 'rebecca@wonkette.com'); addHidden( 'item_name', 'Wonkette Donation'); addHidden( 'item_number', 'Just Once');
//add new params addHidden( 'a3', dataValue); addHidden( 'p3', 1); addHidden( 't3', 'D');
} else if ( planType == "monthly" ) { formEl.querySelector('input[name="cmd"]').value="_xclick-subscriptions"; addHidden( 'business', 'rebecca@wonkette.com'); addHidden( 'item_name', 'Wonkette Recurring Donation'); addHidden( 'item_number', 'wonkette_recurring');
//add new params addHidden( 'a3', dataValue); addHidden( 'p3', 1); addHidden( 't3', 'M'); addHidden( 'src', 1); addHidden( 'srt', 52); } formEl.submit(); } else if ( payment == "strip" ) { addHidden( 'entity_type', 1); addHidden( 'plan_type', 1); addHidden('entity_id', getSiteId() ); checkedOption.value = dataValue * 100;
if ( planType == "once" ) { formEl.action = "/core/payment/single_donation"; addHidden( 'plan_name', 'One Time Donation'); stripInit(amount, 'One Time Donation');
} else if ( planType == "monthly" ) { formEl.action = "/core/payment/recurring_donation"; addHidden( 'plan_name', 'Monthly Donation'); addHidden( 'plan', 'donation_' + amount); stripInit(amount, 'Monthly Donation'); }
}
} function addHidden(key, value) { // Create a hidden input element, and append it to the form: var input = document.createElement('input'); input.type="hidden"; input.name = key; input.value = value; input.className += 'remove-me'; formEl.appendChild(input); }
function stripInit(amount, description) { var token = function(res){ addHidden('stripeToken', res.id); addHidden('stripeEmail', res.email); formEl.submit(); };
if (amount) { StripeCheckout.open({ key: 'pk_live_7dJjNGbMgTkHfEasr9FsLcjF', // real //key: 'pk_test_zbMpaIyMyHJ7TLUEheC7q2iS', //test amount: amount, name: 'Wonkette', image: 'https://assets.rbl.ms/16950638/origin.png', description: description, panelLabel: 'Donate', token: token, locale: 'auto' }); } else { window.alert('Select donation amount first') } } });
function getSiteId() { var site_id = null; var inner = document.querySelector('html').innerHTML var str = inner.split('"site_id": '); if( str[1] != undefined ){ site_id = str[1].split(',')[0]; } return !isNaN(site_id) ? site_id : false; } }
formsHandling();
REBELMOUSE_STDLIB.createElementChangeListener(".show-more.js-expand:not(.processed)", (el) => { const keepReading = el; keepReading.classList.add("processed"); keepReading.addEventListener("click", function() { setTimeout(formsHandling, 500) }); });
});
});
window.REBELMOUSE_ACTIVE_TASKS_QUEUE.push(function(){
window.disqus_config = function () { this.page.identifier = "2657304843", this.page.url = "https://www.wonkette.com/tucker-carlson-karine-jean-pierre"; }; var disqusCt = document.createElement('div'), disqus_config; disqusCt.id = 'disqus_thread'; (function () { var d = document, s = d.createElement('script'); s.src="https://wonkettecom.disqus.com/embed.js"; s.setAttribute('data-timestamp', +new Date()); (d.head || d.body).appendChild(s); })();
function loadCountScript(callback) { var s = document.createElement('script'); s.type="text/javascript"; s.async = true; s.id = 'dsq-count-scr'; s.src = "//wonkettecom.disqus.com/count.js"; var x = document.getElementsByTagName('script')[0]; x.parentNode.insertBefore(s, x); s.onload = () => callback(s); document.head.append(s); } loadCountScript(script => { /*Add comment Button to all articles*/ REBELMOUSE_STDLIB.createElementChangeListener(".share-panel:not(.js--has-comments)", (el) => { let sharesPanel = el; sharesPanel.classList.add('js--has-comments'); if (sharesPanel.closest('.article__shares')) { let postId = window.REBELMOUSE_BOOTSTRAP_DATA.post.id, postURL = location.protocol + '//' + location.host + location.pathname; addButton(postURL, postId, sharesPanel); } else if (sharesPanel.closest('.widget')) { let thisPost = sharesPanel.closest('.widget'), postId = thisPost.getAttribute('elid'), postURL = thisPost.querySelector('.widget__headline-text').getAttribute('href'); addButton(postURL, postId, sharesPanel); } }); });
function addButton(url, id, el) { var commentBtn = document.createElement('span'); //commentBtn.href = url; commentBtn.classList.add('js--toggleDisqus'); commentBtn.classList.add('disqus-comment-count'); commentBtn.setAttribute('data-disqus-url', url); commentBtn.setAttribute('data-postid', id); //commentBtn.setAttribute('data-disqus-identifier', id); commentBtn.innerText="0"; el.append(commentBtn); DISQUSWIDGETS.getCount({ reset: true }); //console.log(url, id); } REBELMOUSE_STDLIB.createElementChangeListener(".js--toggleDisqus:not(.js--callDisqus-processed), .show-more:not(.js--callDisqus-processed)", (el) => { console.log('run callDisqus()'); var timeOut = 10; if (el.classList.contains("show-more")) { timeOut = 1000; } el.classList.add('js--callDisqus-processed') el.addEventListener('click', function () { setTimeout(function () { let t = el, thisPost = t.closest('article') || t.closest('.js-section-loader-feature-container'), postId = t.getAttribute('data-postid'), postURL = t.getAttribute('data-disqus-url'); document.querySelector('#disqus_thread') && document.querySelector('#disqus_thread').remove(); if (t.closest('.article__shares')) { let postWrap = document.querySelector('.mobile-post-wrapper'); postWrap.appendChild(disqusCt); } else { let afterEl = t.closest('.widget'); if (afterEl) { afterEl.parentNode.insertBefore(disqusCt, afterEl.nextElementSibling); } } console.log('DISQUS.reset', postId, postURL); DISQUS.reset({ reload: true, config: function () { this.page.identifier = postId; this.page.url = postURL; } }); if (t.classList.contains('js--toggleDisqus')) { let disqus = document.getElementById("disqus_thread"); // disqus.scrollIntoView(); } }, timeOut) }); }); // Hide hidden tip-jar, idk why window.REBELMOUSE_STDLIB.createElementChangeListener(".js-keep-reading:not(.js-processed)", (el) => { let keepReading = el; keepReading.classList.add('js-processed'); //keepReading.closest('.mb-2').nextElementSibling.style.display='none'; });
});