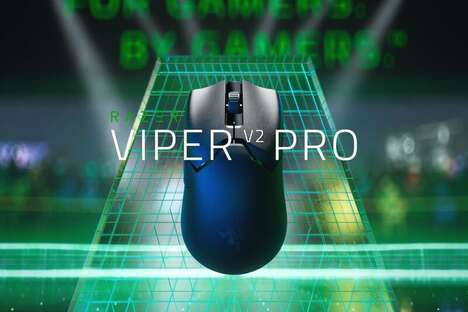 Razer has released a sequel to its original 2019 "Viper" gaming mouse, bringing a new "Viper V2 Pro" to the gaming peripheral market. The main differences between the original "Viper" and the new V2 include a new thumb button for right-handed gamers and a new USB-C connector. The lightweight "Viper V2 Pro" is equipped with a "Focus Pro 30K" optical sensor, which offers increased sensitivity up to 30,000 DPI and faster speed.
Razer says its "Optical Gen-3" switches can last up to 90 million clicks, an increase of 20 million over the "Viper". The new edition also lasts up to 80 hours between charges, an increase of 10 hours over the previous model.
The shape of the mouse fits over most grips and could prove to be the perfect addition to a competitive gamer's setup. Razer appears to be at the top of the game when it comes to lightweight gaming peripherals.
Image credit: Razer