Watch Pete Davidson jokes about Kanye West throwing a 'Mrs. Doubtfire 'to see his children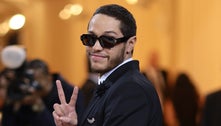 the Lady Doubtfire The character in the 1993 film was created by the late comedian Robin Williamswho plays a dad who disguises himself as a kind nanny so he can see his children being separated from his wife.
Davidson allegedly witnessed all the action in West's case from his current partner's home Kim Kardashian.
"Kanye told me I had AIDS, and he's a genius, so I thought, 'Oh, fuck,'" Davidson said. "I was like, you better call my doctor. The guy he made [the album] 'College Dropout' thinks I have AIDS. "
Davidson joked that he even went to a doctor, only to confirm that he doesn't have AIDS, just "it looks like he does. So it's a completely different thing."
The conflict with the West is "a really strange thing to deal with," Davidson told the audience. "Even older friends say, 'I don't know. He looks pretty angry, brother. Good luck, sorry, here if you need to, but as no advice … 'Are you in a safe place?' "